Squirrels Scouts – Under Construction
We're starting a new provision for four and five year olds called Squirrels, to help young people gain skills for life at a time when it matters most and where it's most needed.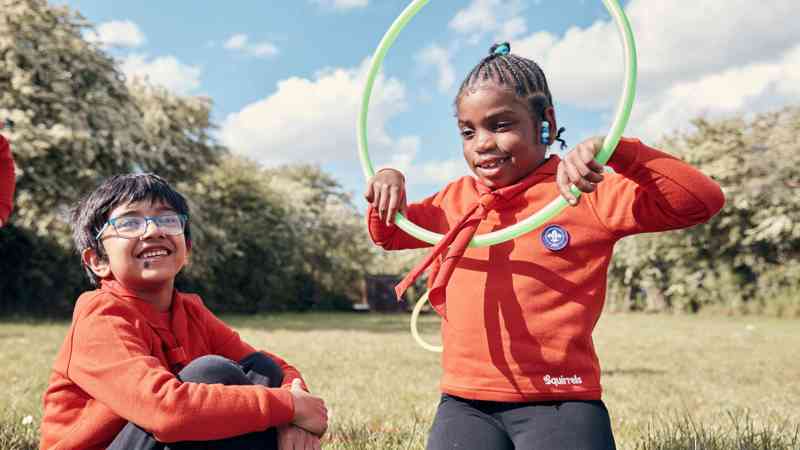 Benefits of joining Squirrels
Squirrels is a completely new provision for 4–5 year olds. There are plenty of reasons to get stuck in, as Squirrels gives young people the chance to:
Make friends
Have fun outdoors
Learn new things
Earn badges through fun activities
---
Take a sneak peak at our uniform and badges and see what we're doing to make sure everyone is safe and included.
---

Volunteering's not just about giving back – the benefits go both ways. All of our activities are run by amazing volunteers. Volunteering lets you try new things, meet new people, and make a difference. We know that volunteering is #GoodForYou because when you volunteer, you'll:
Do something good for your community and yourself
Gain skills for the future
Spend time with your children or gain experience with young people
Make friends
Make memories
Volunteering will keep your body and brain active as you make a huge difference to young people's lives – helping them develop skills for life and learn a whole lot about themselves along the way.
It doesn't matter if you want to get involved regularly or help out occasionally – we can find the right fit for you.
---
Our pilots showed that working with younger children opens up new opportunities for adults (especially parents) to try volunteering with Scouts. New volunteers have also shown an interest in supporting Scouts beyond the pilots and across different roles.
We tested three different models (family-led, partner-led and Scout-led) through the pilots to understand the best delivery model. They all ran the same programme, which combined the best of Scouts with what we (and the experts) know about young children's needs.
---

We have big ambitions to bring non-formal, early years education to communities and families who could benefit the most.
To do that, we need another £600k and partners who can help us reach potential volunteers in our target communities. If you're a funder, policy maker or youth organisation and can help us bring non-formal education to the communities that can benefit the most, get in touch.
I want to learn more about being a Squirrels supporter >
---

As the programme grows, we'll have hundreds of activities for 4 and 5 year olds. There are already plenty of fun Squirrels activities within our activity finder, if you're looking for something to keep young people occupied. Check out the activities and be inspired to give something new a go.
Discover our amazing Squirrels activities >
Scout Store Squirrels Merchandise >
---